The Road Between Us: A Father & Son Bicycle Route 66
When Christopher Briscoe and his son, Quincy, rode their bikes along historic Route 66 from Santa Monica to Chicago, majestic beauty and quirky characters became regular features of their daily routine. It was 58 days and 2,700 miles of exhaustion and magic, through sometimes overwhelming heat or driving rain. Along the way, they discover that the road between them is the life path that connects them. Their journey is captured in photographs and stories that bring to life their adventures and heartfelt camaraderie.
Connections: Everyone Has a Story to Tell
This book celebrates the universal search for meaning—how we pursue our passions on our way to solving the puzzle of who we are. Connections takes readers into the thick blue smoke of a forge where a bearded blacksmith hammers red-hot iron into artwork. It introduces them to a young man, long overdue for a bath, who is hiking the Pacific Crest Trail in order to find himself. Connections is about love, collaboration and giving purpose to our lives. Our DNA has wired us to seek relationships. Deny anyone contact and it's the surest way to destroy them. It is the genius of nature's nectar—her design to ensure the survival of our species. From the author: "My connection with others often occurs when I take their portraits. I photograph people to celebrate them as pieces of art. My camera gives me access to a unique intimacy. An effective portrait is a mover of emotions that brings us closer and I'm honored to be able to contribute to that."
Shifting Gears: Riding the Road through America's Heartland
Shifting Gears: Riding the Road through America's Heartland is a coming-of-age story about the author's 4,000-mile transcontinental bicycle trip in 1976. With precision and detail, Briscoe takes his readers on a once-in-a-lifetime bicycle journey through the heart of 1970s America. Briscoe brings his art to storytelling and shares provocative and insightful tidbits he learned as he pedaled along the highways and byways of America with his good friend.
Common Ground
Photojournalist and author, Christopher Briscoe, leads his readers on his journey into the jungles of Cambodia, the Killing Fields, and Bangkok, Thailand. Briscoe takes with him a tiny HP photo-printer that he uses to gift refugees surviving in a city dump, with their first family portraits. Along the way, Briscoe introduces readers to the passionate founders of Project Enlighten, a non-profit that helps victims impacted by war and poverty with scholarships and other educational opportunities. Another stand-out in this book is the story of Sao, a Cambodian, whose parents were executed by Pol Pot when Sao was a young boy. Read this inspirational book and learn why Sao is one of the happiest people Christopher met.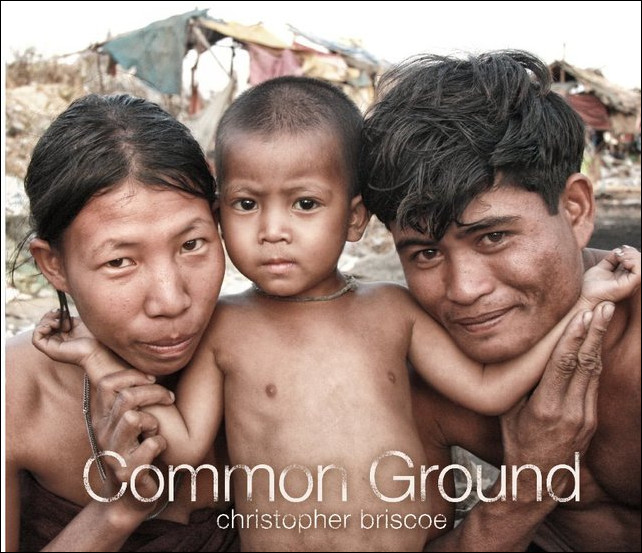 The Art of Surfing
Windansea is a famous surf spot in La Jolla, California. It is postcard beautiful with a history so rich that Tom Wolf used it and the characters who surfed there as the central part of his story, The Pump House Gang. Christopher Briscoe is an international photographer who digs deep to unveil the essence of this special place and its unique culture.
Find Christopher's ebooks.